Does Your Dog Have Dog Flu – Learn How To Protect Your Dog
Dog flu is a disease in dogs which is very similar to the flu that infests humans. However dog flu can't spread from dogs to humans.
Almost a quarter of dogs with the flu don't show any symptoms. Those that do can be expected to cough, sneeze or have a runny nose.
It can be quite a serious illness for older dogs and puppies but should be viewed with concern in all dogs.
It is highly contagious and, unless they h​ave previously been vaccinated, almost all dogs that are exposed to it will become infected. Much like human flu, dog flu is spread by sneezing or coughing from dogs which already have it.
The incidence of dog influenza is on the rise and a new strain arrived from Asia in the early 2000s. It originally from equine influenza and the transfer between species may have occurred at race tracks where horse racing and greyhound racing both take place. Because it is a new virus, dogs have no natural immunity to it.
More...
The Dogster blog has recently published an article on the origins, symptoms and treatment for dog flu.

Here is and extract from what they have to say:
There are two strains of dog flu in this country. H3N8 reared its head in 2004 on Greyhound racetracks in Florida. It spread like wildfire until a vaccine was developed.
More recently, in spring 2015, the Asian-born H3N2 clobbered Chicago. Unfortunately, there was no vaccine to protect against the strain.
When the outbreak hit, veterinary hospitals were packed to capacity with sick dogs. Some came in coughing, others had labored breathing. Dogs were tired and had mucus dripping from their eyes and nose. The sickest dogs experienced all these signs. Veterinarians faced the challenge of treating the sick dogs while not infecting the healthy ones.
Summary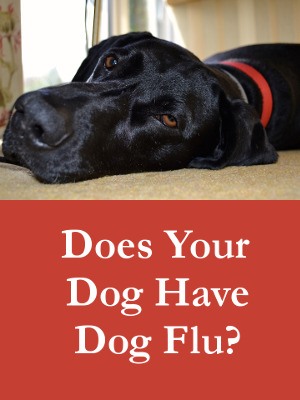 Article Name
Does Your Dog Have Dog Flu - Get The Facts On Symptoms and Treatment
Description
Check out the prevention, symptoms and treatment of dog flu
Author
Publisher Name
Publisher Logo