Dog Walking In The Dark – How To Get The Most Out Of It
Walking your dog is an essential part of your dog's routine. As the nights get darker there is no reason to stop walking - it is good for both of you.
It you observe a few common sense rules dog walking in the dark can be just as safe as it is during daylight times,
It is a good idea to make you an your dog as visible as possible. This can be done quite cheaply. Here are a few ideas:
Get a roll of reflective tape and stick it to you dog's collar.
Get a flashing light similar to those that cyclists wear and attach it to your clothing.
Wear a high visibility vest. Use the same kind that road workers use.
More...
You should wear light clothing and walk towards the oncoming traffic. Carry a flashlight so that you can control what you are looking at.
​The "Your Dog" blog recently published an article with some good suggestionsabout dog walking at night.

In the article they offer five tips to help you enjoy walking in the dark more. Here are the first two:
1. Stay safe
The most important thing on any walk is the safety of yourself and your dog. Choose your route wisely and don't head anywhere where the lack of visibility could get you into difficulty, such as near rivers or canals. Wear clothes that will help you be seen — you could even get your dog a hi-vis collar — and always keep your mobile phone with you.
2. Still go for a walk
You've had a long day at work, it's cold and damp outside, and you've got comfortable in front of the fire. So who could blame you for being tempted to skip your evening dog walk? However, avoid the temptation. The walk is for your dog and he will not want to miss it! It's one of the highlights of his day and you'll feel better for getting out for the walk yourself. Once his exercise needs have been satisfied, he'll probably come and snuggle up in front of the fire with you — bliss!
Read the rest of the tips here.

Summary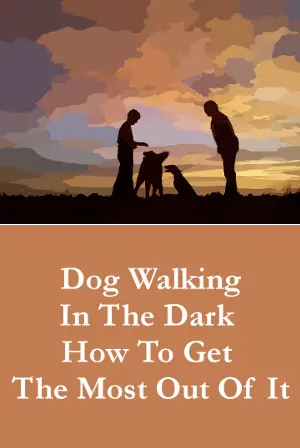 Article Name
Dog Walking In The Dark - How To Get The Most Out Of It
Description
How to walk you dog in the dark safely and securely. Some tips to make dog walking after dark as safe as walking in the day.
Author
Publisher Name
Publisher Logo