When To Euthanase Your Dog – How Do You Decide?
Deciding when to euthanase your dog is one of the most difficult decisions you can make. You are talking about a loyal companion. The one who loves you unconditionally and is always pleased to see you when you return home.
As impossible as it sounds the only way forward is to try to put aside your own feelings and make your decision solely based on the best outcome for your dog.
Here are some of the factors that have helped others make this terrible choice.
Your dog is in constant pain which can't be relieved by medication. You may need your vet to help you recognize the symptoms that show your dog is in pain.
He has lost interest in food and will not eat
​He is unable to walk or stand unaided.
More...
He is not interested in any of the things he used to enjoy. Particularly going for walk or trying to get attention and be petted by members of the family.
He frequently soils himself through incontinence
The "Tractive"​ blog has recently published some really good information on when to make the decision to euthanase your dog and also what to expect during the process.

Here is an extract from the article:
Every pet, illness and situation is different. There is no single rule that can be followed when it is time to help your best friend "fall asleep", and as a pet owner the decision can be difficult to make. Therefore, do not be afraid to contact your vet sooner rather than later. Getting input from your veterinarian on the specific medical conditions that your loved one may face is vital for doing what is best for your pet. Some of the signs of old age or sickness can be relieved and your pet's problems may be treatable. Abnormal behavior or signs of discomfort can actually also be caused by problems other than pain. However, loss of appetite, vomiting, signs of pain, or difficulty in breathing may be good indicators that euthanasia should be considered. You and your family know your pet better than anyone else, so try to make a reasoned judgement on his or her quality of life. Your vet will of course help you and will tell you whether or not euthanasia is necessary.
You can read their complete article on euthanasia here.
Summary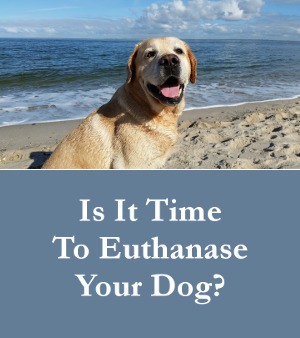 Article Name
When To Euthanase Your Dog - How Do You Decide?
Description
Here are some of the things you need to consider when deciding when to euthanase your dog.
Author
Publisher Name
Publisher Logo