Shelter Dog Training – Why You Should Participate
Shelter dog training (while the dogs are still at the shelter) makes it much easier to find homes for them.
Participating in the program can also have benefits for you.
These can include learning how to interpret dog body language, learning how to modify problem behaviors or you might even learn a new profession. The skills you learn as part of this kind of program will enable you to train other dogs including your own.
When dealing with shelter dogs it is best to assume they have not had any previous training. There is also a chance that they are at the shelter because they have behavioral problems. Even if he has had some previous training, it is a good idea to go back to basics with the training. It may even be necessary to start with potty training.
Your participation will make it easier for some of these beautiful dogs to find permanent homes.​
More...
Bear in mind these dogs need to be treated patiently and will need a period of adjustment.
The Dogster blog has just published an article on the benefits of taking part in a shelter dog training program.

Here is the opening paragraph of their article:
With more and more dogs being surrendered due to "behavioral issues," many shelters are looking for ways to address these behaviors and make the animals more adoptable. Some shelters have an entire training and behavior department, while others ask local trainers to volunteer their time. A few even have a program that allows volunteers to work with professional trainers, learning valuable skills while assisting them. If you are lucky enough to live near such a shelter, here are six reasons why you should take advantage of that opportunity.
You can read the whole article here.

Summary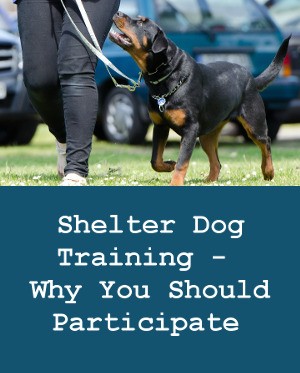 Article Name
Shelter Dog Training - Why You Should Participate
Description
Training shelter dogs can make it easier for them to find homes. It is a program which you should participate in.
Author
Publisher Name
Publisher Logo